The Infatuations and family are deeply honored to have been nominated for 14 Detroit Music Awards in 2014. Thank you so much to all our brothers and sisters in the Detroit Music Community for the love and support. Thanks to everyone at the Detroit Music Awards Foundation for the recognition and honor.
Most of all – Thank You to the Fans! We wouldn't be here if it weren't for you!
Congratulations to all the nominees in 2014!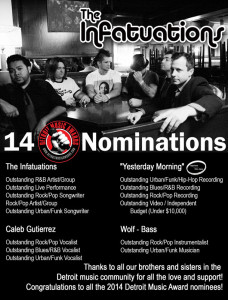 Stay tuned for more music in 2014!