Detroit Block Party Album Release May 10th @ St. Andrews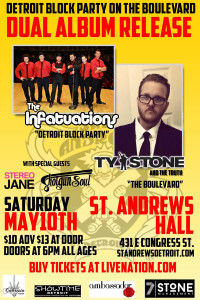 Click For More Info
March 10, 2014 – The Infatuations nominated for 14 Detroit Music Awards!
The Infatuations were honored with 14 Detroit Music Award Nominations. We can't say thank you enough to our brothers and sisters in the Detroit Music Community, the fans, and the Detroit Music Awards Foundation.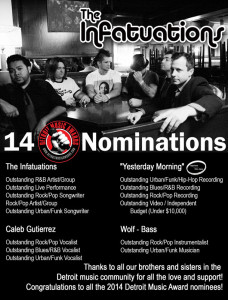 March 1, 2014 – The Infatuations open for Here Come The Mummies on National Rock Review
The real deal treat of the night however was the the highly successful and well received Motown sounds of the opening act, The Infatuations. The Infatuations is 'Simply Detroit'. The Motor City starts coming out of your speakers the second the first note hits. These guys celebrate every sonic movement that is Detroit by combining the pop suss of Motown soul, the sheer in-your-face bravado of Parliament Funkadelic, and the raw, untamed energy of Detroit rock 'n' roll. The results are undeniably spectacular.
Read the Full Review Here
 More photos from the show here
10/28 – Yesterday Morning – Available Now
The new Single from The Infatuations is available now at iTunes!