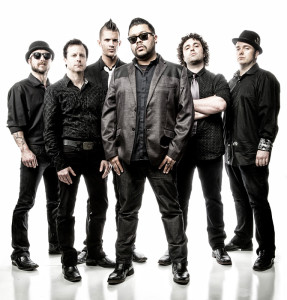 "Detroit Block Party" is the only title appropriate for The Infatuations first full-length album. The Infatuations are simply… Detroit. This band is a celebration of every sonic movement borne of the motor city; from the well-crafted pop-soul of Motown, to the sheer in-your-face bravado of Parliament Funkadelic, to the raw untamed energy of the MC5.  Imagine you are at a summertime block party with all three of these milestone Detroit-produced sounds, the jam session at the end would bring you The Infatuations. Danceable, unforgettable catchy pop-rock-soul-n-funk that hits the craft sonic signatures of decades of Motor City styles, but with a modern flair. The new singles evoke current culture and build on the cornerstones and high-water marks of their industrial renaissance hometown.
Like the band's live performances, the album is diverse, fun, soulful, gritty, and always positive and uplifting in tenor. Their songwriting also provides that rich storytelling in the tradition of Curtis Mayfield or Marvin Gaye. It gets you on your feet like Rare Earth, hits you like The MC5 and grooves you like P-Funk.
The Infatuations' range of appeal is forefront in the acts they've shared the stage with in the last year… from George Clinton and the P-Funk All-Stars to Third Man Records' breakout artist Willy Moon, to Here Come The Mummies. Indeed the band is a perennial favorite on the summer festival circuit, reliably proving time and time again that all generations and cultures like to get up and dance!
The Infatuations live performance is electric, energetic, and engaging. These guys are so musically tight you couldn't wedge a sheet of paper in between their hooks and modulations. Still, they radiate warmth and inclusiveness, making the audience gel as a community for the duration of the set. Singer Caleb Gutierrez, guitarist Christian Draheim, bassist wolf, guitarist Nick Behnan and drummer Bobby Myers draw new fans into the "family" during every set. "Reliably fun and top-quality" according to promoters, "I can dance to every song, they're familiar yet new".
In 2014, The Infatuations brought home 5 Detroit Music Awards out of an astounding 14 nominations across multiple categories including Outstanding Live Performance. "You want to know how Detroit actually parties…watch The Infatuations," says Gnyp, from 93.9 FM The River. "The Infatuations are a must-see band".
The Infatuations are currently on tour in search of new friends, new parties, sweaty summer festivals, and bringing their "Detroit Block Party" around the country.
PRESS QUOTES:
"If you want to know how Detroit actually parties, watch the Infatuations" – Gnyp from 93.9 The River – Windsor/Detroit
"The Infatuations: One of Detroit's Hottest Bands" – Metro Times Weekly – Detroit MI
"The Infatuations encompass the best parts about that Detroit sound" – Real Detroit Weekly
"Put on your sexy pants….these Motor City men know how to make a wide range of good music." – City Beat – Cincinnati OH
"Fans of modern throwbacks like Fitz & the Tantrums, Eli "Paperboy" Reed and Mayer Hawthorne need to track down a copy of this gem." – Pittsburgh In Tune
Contact:
management@theinfatuations.com
theinfatuations.com/epk